We're glad you're here!

It is great to be a part of the fellowship of believers known as Calvary Baptist Church. We are a loving and caring congregation. You and your family would be a welcome addition.
Fall Festival 2016!
Join Calvary as we host our community for fall festival fun on Sunday, October 30, from 6-8PM! There will bve free food, games, Bible lessons, candy, door prizes, and much more! We hope to see you and your family there!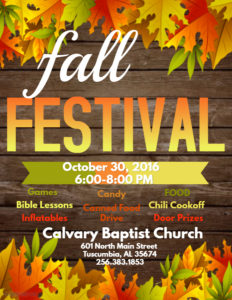 Service Times:
Sunday School at 9:15 am
Worship Services at 10:30 am
and 6:00 pm
Wednesday Services at 6:15 pm
Colbert Lauderdale Baptist Association
North American Mission Board
International Mission Board
Southern Baptist Convention
Alabama Baptist Convention State Board of Missions
Samaritan's Purse
American Family