Our leadership team recognizes the authority of God, and realizes that we are shepherds who serve under the Chief Shepherd, Jesus Christ. We desire to devote ourselves to prayer and to the ministry of the Word.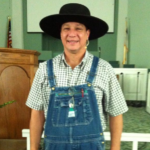 Bro. Darrell Pace
He has been serving as Pastor for 7 years. He has been in ministry for 30 years serving all around the world.
Tammy Segars
She is the director of children, youth, and our college & career ministries. She has been serving at Calvary for over a year, but she has served in ministry for 28 years.

Tanya Weeks
Financial Secretary
She is our Financial Secretary. She has been serving at Calvary for 3 years.
Hannah Patterson
She is our Nursery coordinator. She has been serving at Calvary for over 3 years.

David Hayes
Fusce elementum dictum nibh vitae vehicula. Nullam feugiat, sapien ac ornare rhoncus, felis sem dapibus felis, ac posuere erat nisl a leo. Morbi posuere.

Jared Elom
He is our facilities custodian and helps with our Wednesday night meals. He has been serving for 13 years.

Meridith Ginn
She is our ministry assistant and publications. She has beening serving at Calvary for less than a year.